Ok so the cold dark reality is this...
There is no going back to the Myspace we once knew. :(
We here at Skemaholics Anonymous never let anything like a site changing (or completely disappearing) stop us from doing what we do... make stuff look better!
So it took me a little while to adapt and to wrestle and maybe a few tears and a few harsh words. Right down to mention of handguns. But I digress. (Not to mention I wouldn't want to shoot my computer, but it was next on the list if plan Y didn't work out for me.)
So here we go.
This is how we will post them Myspace 3.0 essentials:
First we want to click on Site Admin if we are not already at the Dashboard.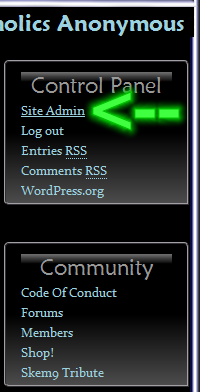 Once at the Dashboard we will click Add New under Posts.
Add your Layout's title.
Nex we want to set a few things.
Find ARTICLE TEMPLATE and choose Myspace3.
In the excerpt box you will want to add the HTML code for your screenshot.
Now find CUSTOM FIELD TEMPLATE and expand it by clicking on the down arrow on the right side.
These can be dragged to a better spot for you.

Next you will choose Myspace 3.0 from the dropdown box and click on Load
All URLs in this form should be Direct Links!
Example:
http://somesite.com/something
The Marquee height will need px following it
Example: 250px
All colors need the # sign first
Example: #000000
Once your form is filled out you will want to choose your categories and add tags.
Now go ahead and preview your post!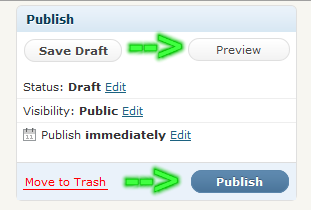 If it looks similar to this then click the preview button to make sure it works.
If everything looks as it should then click on the publish button seen above!
Voila!