Hello Skemaholics!
I just spent the past 30+ minutes typing up these announcements to have Ning toss them in the trash as it is having intermittent errors. This sort of thing doesn't win me over. But I digress...
Skemanon on Ning has been sponsored for the next year, thank you to the "Anonymous"donor! This gives us plenty of time to decide if we will stay or leave. In the meantime, I have added a Ning 3.0 Category at the Wordpress site for Cover Images. We will however, continue on the 2.0 platform until they rip it from our hands. ;)
It has been a busy month for me as I have updated our Wordpress site from a simple blog to a fully functional and responsive social network. If you aren't signed up over there, you should create your account today! The icing on the cake happened this weekend when Mr. Evil and I made it possible to customize your new profile pages there with CSS! Here is a list of the NEW features:
Customizable Profiles
Private Messaging
Activity Streams
Status Updates
@Mentions
Forums
Groups
I may have left some things out as I'm crunched for time since my first post was deleted by Ning errors and I now have a screaming baby... but the announcements must be finished. Blogs at Wordpress will be reserved for designers only, but if you are a member who likes to blog, please check out the groups. If you want to set one up just message me and I will create one for you.
Featured Designs are posted here: http://blog.skemaholicsanonymous.com/
This month's Featured Member is
PerseH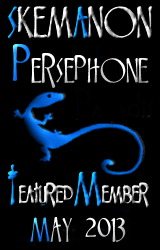 PerseH helped keep me posted when the Ning 3.0 news hit and I appreciate that. Stop by her page and congratulate her! She is a fellow Network Creator. If you want to check out her site please Click Here.
Well, my mini boss tells me that's enough for now. I will add more to the topic if I discover something missing later.
AnGella